When searching for the best face oil, cranberry seed oil may not be the first to come up in your search. It's rare to find this hidden gem in facial oil formulas, but it's worth its weight in gold for its unique and potent skin benefits.
In your quest for the best face oil, you may begin to notice that most formulas contain the same cost- effective filler oils, such as sunflower, safflower, almond, apricot and soybean oil. These are not only inexpensive but in most cases are highly refined, meaning skin beneficial nutrients and antioxidants are lost in the process, leaving you with a face oil that doesn't do much beyond moisturizing. And that's why cranberry oil stands out amongst these ubiquitous, nutrient-depleted oils. It's gaining recognition as a superior facial oil due to its wealth of skin-loving nutrients that work wonders for the complexion.
Finding the best face oils for your skin may feel like searching for a needle in a haystack, but it's worth digging a bit deeper to experience the glow-inducing benefits of cranberry oil. In this article we'll uncover what cranberry oil is , where it comes from, our top 5 reasons to use cranberry seed oil, skin types it works for and how to use it.
What Is Cranberry Seed Oil?
Cranberry seed oil is a vegetable oil obtained by pressing the tiny seeds leftover from cranberry fruit production, a byproduct of the food industry. Cranberries are farmed in North America, with most of them coming from Wisconsin and Massachusetts. It takes approximately 30 lbs. of cranberries to produce a half ounce of oil. Cranberry oil is typically cold-pressed and unrefined, which means that it is not deodorized, decolorized or otherwise treated. When cranberry oils is unrefined, it retains more of its skin beneficial nutrients and has a pleasant but faint berry scent.
Skin Beneficial Properties In Cranberry Seed Oil
Cranberry seed oil is unique for its balanced ratio of omega 3, 6 & 9 fatty acids. Cranberries in general are a rich source of nutrients and the oil from the seeds is just as impressive. Cranberry seed oil contains potent antioxidants and phytonutrients, including vitamin E, carotenoids, polyphenols, phytosterols and phospholipids.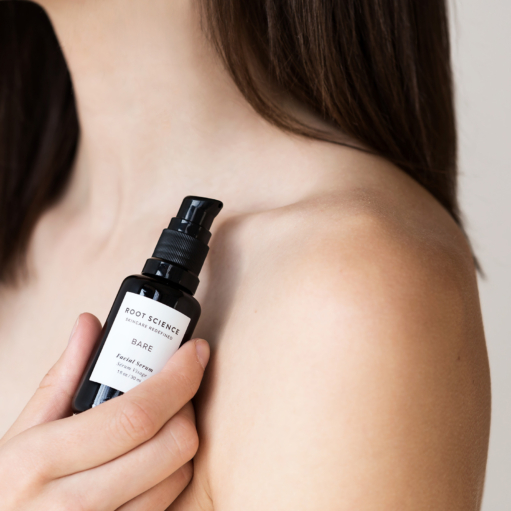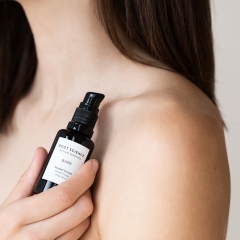 Organic. Phytoactive. Skin Nourishment.
Looking For A Cranberry Seed Oil Powered Moisturizer?
Top 5 Skin Benefits Of Cranberry Seed Oil
1. It Softens And Soothes Dry Skin
Cranberry oil is a natural emollient that contains phospholipids that help soften dry skin. Also, the naturally occurring omega fatty acids reduce visible signs of dryness and help your skin to retain moisture.
2. It Minimizes The Look Of Fine Lines & Wrinkles
Cranberry oil contains vitamin E, carotenoids and phytosterols, helping to reduce the appearance of fine lines and wrinkles when used regularly.
3. It Provides Antioxidant Protection Against Environmental Stressors
Environmental stressor such as free-radicals can accelerate visibly signs of aging. Cranberry oil is a rich source of protective antioxidants, specifically tocopherols, tocotrienols, polyphenols and carotenoids.
4. It Acts As A Nutrient-Rich Moisturizer
If you're looking to simplify your skincare routine, cranberry oil not only offers skin beautifying nutrients but also delivers lasting moisture, keeping your skin feeling soft and smooth all day long.
5. Promotes A Healthy-Looking Glow
The impressive nutrient and balanced omega fatty acid profile in cranberry oil is a skin barrier's best friend. Research shows that omega-3 and 6 fatty acids play a role in maintaining a healthy skin appearance, imparting a natural glow.
What Types Of Skin Should Use Cranberry Seed Oil?
Cranberry oil is a light-weight, non-pore clogging oil that can be enjoyed by all skin types. Dry and mature skin benefits from its rejuvenating antioxidants, phytosterols and supportive omega fatty acids. Sensitive, combination and blemish-prone skin reaps the soothing and balancing benefits of vitamin E and omega 6 linoleic acid.
How To Use Cranberry Seed Oil For Skin
The best way to use cranberry oil for skin is to look for a face oil that includes this stellar ingredient. Cranberry seed oil should be used as a daily moisturizer, on freshly cleansed skin. We recommend using 2-3 drops on damp skin or mix in with your favorite facial toner to create an emulsion. Gently massage in an upward, circular motion or use the pat and press method. By combining oil with water, you increase absorption while simultaneously giving your skin a balanced ratio of moisture and hydration.
Not All Cranberry Seed Oil Is Created Equal
Although rare, you can find refined cranberry seed oil at a fraction of the cost of the high-quality, cold-pressed version. To fully reap the skin benefits of cranberry oil, we recommend opting for cold-pressed or even better, CO2 extracted. These forms of extractions help the oil to retain all of the skin-loving nutrients and antioxidants that keep your skin looking its best.
Shop Featured Products
Want To Know The Top 5 Mistakes to Avoid When Buying Natural Skincare?
Please note that by entering your email address you are subscribing to the Root Science newsletter. No pressure, you can unsubscribe at any time.
Disclaimer: This content is for informational and educational purposes only. It is not intended to provide medical advice or to take the place of such advice or treatment from a personal physician. All readers/viewers of this content are advised to consult their doctors or qualified health professionals regarding specific health questions. Neither Root Science nor the publisher of this content takes responsibility for possible health consequences of any person or persons reading or following the information in this educational content. All viewers of this content, especially those taking prescription or over-the-counter medications, should consult their physicians before beginning any skincare, nutrition, supplement or lifestyle program. The views and products expressed are not intended to treat, cure or prevent any disease.
Image Sources: Oil Drops via Dustin Humes