Description
"
This is ultimately the product that I had been missing. My skin is loving it. My skin has not felt this soft in years.
Carley
Root Science User
Milk Thistle Seed Oil
Sourced from Hungary
Considered an acne antidote, phytonutrients target blemishes, redness, and irritation.
Black Cumin Seed
Sourced from Egypt
Antibacterial properties prevent acne causing bacteria and antihistamines prevent skin irritation.
Jojoba Oil
Sourced from United States
Similar composition to human sebum allows for superior absorption, balancing oil production and hydration.
Cranberry Oil
Sourced from Canada
Vitamin A reduces blemishes, hyperpigmenatiton and promotes healthy cell growth.
Tamanu Oil
Sourced from Indonesia
Renown for its astonishing healing effect on skin; antibiotic, antimicrobial, antioxidant, anti-inflammatory properties reduce scarring and fade sun damage.
Calendula Oil
Sourced from Germany
A prized wound healer, antiseptic and antibacterial properties prevent infection and accelerate blemish recovery time.
The Process
Premium quality oils are sourced raw, organic, unrefined and non-deodorized for maximum nutrient density. Therapeutic grade essential oils are distilled from wild medicinal plants. 18 active + skin loving ingredients are hand blended in synergistic quantities proprietary to Root Science. Tried and tested by real people to ensure optimal skin benefits.
The Experience
Delicate notes of sweet Pomegranate and hints of nutty Argan reunite skin with nature's purest actives. Serum warms in the palm of your hand and nutrients are gently massaged into skin. Lavish botanicals drench complexion in glow activating vitamins as moisture rich oils quickly absorb, revealing perfectly primed skin and a new state of health.
The Standard
Housed in stunning dark violet glass for the highest standard in freshness and potency. Concentrated, water-free formula eliminates fillers and preservatives. Pumps instead of droppers reduce oxygen-induced rancidity. Violet glass instead of clear prevents light degradation. Purest form of organic + wild crafted ingredients are protected for skin safety and efficacy.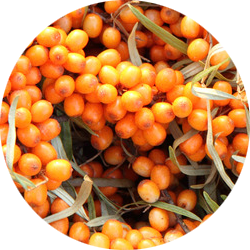 Featured Ingredient: Sea Buckthorn Oil
Native to both Europe and Asia, Sea Buckthorn use dates back thousands of years. It's been recorded in Tibetan medical texts and described as the miraculous berry by ancient Greek scholars. Sea Buckthorn possesses properties that help nourish, revitalize, and restore severe skin ailments such as acne, eczema, dermatitis, skin ulcers, hyper pigmentation and severe skin damage caused by radiation. Along with its astounding healing powers it is also one of nature's anti-aging secrets, giving skin a youthful appearance by promoting cell regeneration. For these spectacular reasons, we use Sea Buckthorn Oil in almost all of our facial moisturizer formulas.
Made in Portland, Oregon · Natural · Organic · Cruelty Free · Vegan