If you've tried everything under the sun to care for your skin, yet nothing seems to work the way you hoped – were here to help! Let us introduce you to one of nature's most powerful ingredients for skin regeneration, Tamanu oil. This powerhouse oil tackles everything from acne to improving skin barrier health. Tamanu oil contains copious antioxidant and therapeutic properties that will have your skin glowing in no time. Let's take a deeper look at how this Polynesian secret can transform your skin.
What Is Tamanu Oil?
Aptly enough, Tamanu oil comes from the seed of the Tamanu tree. The tree is native to the Pacific Islands. For centuries, natives used the oil medicinally for skin repair.
Since then, the oil has mostly remained a Southeast Asian treasure. Seeing as the trees only blossom twice a year, one tree only produces about 5 kg of oil per year.
After blossoming, seed pickers place the seeds in a moisture-free area. Here, the sun dries them out over an eight-week period. This causes the seed to ooze sticky oil.
The dry seeds are mechanically cold-pressed to secrete the oil. For the best quality oil, natives pick kernels from trees closest to the saltwater-misted coast. That makes the Republic of Vanuatu a haven to harvest unfiltered seeds.
As a volcanic archipelago, the soil in Vanuatu is rich with unique nutrients that allow the seeds to produce highly therapeutic oil. That's why we use Tamanu oil from a high quality source in Vanuatu. Beware of black or dark brown versions of the oil, like the type produced in Vietnam. Higher quality oils, like those from Vanuatu, have a dark forest green color.
Skin Transformative Powers Of Tamanu Oil
Tamanu oil is starting to make its mark in the skincare realm, and for good reason. This oil is such a versatile ingredient that addresses many skin needs and concerns. Let's take a look at the numerous uses for tamanu oil.
Tamanu Oil For Damaged Skin
One of the main reason the Polynesian culture has used Tamanu oil for centuries is for its skin repair and healing abilities. The oil contains antibacterial and antibiotic properties that help to repair skin damage caused by acne, as well as exceptionally high counts of monounsaturated and polyunsaturated fats which help to maintain balanced moisture levels.
What really makes this oil an effective agent in helping to repair skin damage is its high level of polyunsaturated fatty acids. These fats are essential because our body can't produce them on their own. So, they must come from other sources such as Tamanu oil.
Polyunsaturated fats are why Tamanu oil for skin health is growing in popularity across the cosmetics world. That's because polyunsaturated fats play a key role in cell membrane development. Therefore, the amino acids in these fats are vital for rejuvenating skin.
Tamanu Oil For Acne
Tamanu oil contains a unique combination of therapeutic components, specifically calophyllic acid, calophyllolide and lactone. These work in unison to manage acne by providing antibacterial, anti-inflammatory and antibiotic properties. To put simply, tamanu oil is a powerhouse acne-fighting ingredient provided by nature. The upside of using tamanu oil over conventional acne treatments is that it does not come with negative side-effects such as peeling, dry skin, photosensitivity or skin barrier damage.
Monounsaturated and polyunsaturated fats play a major role in making tamanu oil an effective treatment for various skin conditions. Up to one third of the oil is composed of the monounsaturated omega-9 fatty acid, also known as oleic acid. Studies have found that monounsaturated fatty acids such as oleic acid act as permeability enhancers for therapeutic compounds present in plant oils. This Polynesian secret is also rich in linoleic acid. While oleic acid assists with delivery, linoleic acid is an essential building block for ceramides, strengthening and supporting healthy skin barrier function
The fatty acid composition of tamanu oil assists the skin in absorbing calophyllic acid, calophyllolide and lactone, the therapeutic constituents unique to the oil. Calophyllolide contains antibacterial properties that help fight bacteria, including propionibacterium acnes (P. acnes) and propionibacterium granulosum (P. granulosum). Tamanu oil's anti-inflammatory properties help to reduce acne-related redness, irritation as well as speed up wound healing and minimize post-acne scarring.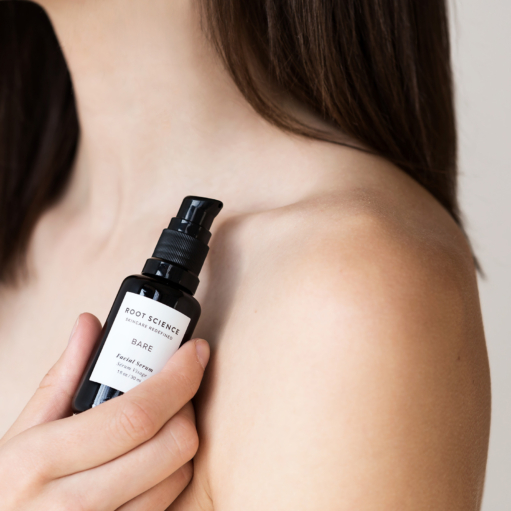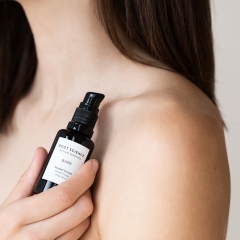 Organic. Phytoactive. Skin Nourishment.
Looking For A Tamanu Oil Powered Facial Serum?
Tamanu Oil For Hyperpigmentation
Hyperpigmentation is a common condition where patches of skin become darker in color than the surrounding area. There are numerous causes of hyperpigmentation.
One of the most common causes of hyperpigmentation is overexposure to UV rays. Some individuals are more susceptible to hyperpigmentation, such as women with hormonal imbalances, many times caused by birth control or pregnancy.
Post-inflammatory hyperpigmentation is another common form of hyperpigmentation, caused by skin conditions such as acne and various forms of dermatitis.
Studies show that tamanu oil possesses anti-inflammatory activity due to its calophyllolide molecule, as well as antioxidant and UV protective properties.
Tamanu Oil For Excessive Sun Exposure
As we mentioned, overexposure to UV rays may be harmful to the skin. Two major antioxidants present in tamanu oil are coumarins and xanthones. These potent molecules help cell membranes maintain their integrity against free radicals. In fact, one study found "85% of the DNA damage induced by UV radiations were inhibited with 1% calophyllum oil."
Studies show that the oil extracted from calophyllum nophyllum (CIO), has "high antibacterial activity against common bacteria involved in skin infections such as multi-drug resistant staphylococcus aureus strain."
Tamanu Oil For Wrinkles
When it comes to wrinkles, prevention is key. As noted above, antioxidants protect your skin from environmental agreesirs, which can lead to premature signs of aging, accelerating the rate at which your skin develop wrinkles and dark spots. Not only does tamanu oil contain antioxidants which aid in reducing the appearance of wrinkles, but also skin beneficial omega 3 and 6 fatty acids which keep TEWL (trans-epidermal water loss at bay. These healthy fatty acids also help to keep your skin looking plump and hydrated, reducing the look of deep wrinkles and fine lines.
The Bottom Line
Although tamanu oil has been around for centuries, its superpowers are still being uncovered. As science has demonstrated, this unique and powerful oil has numerous therapeutic properties that can improve your skin. From combating acne to smoothing wrinkles, Tamanu oil is a versatile addition to a healthy skin care routine.
Shop Featured Products
Experience the transformative powers of Tamanu oil, found in all Root Science facial serums:

Want To Know The Top 5 Mistakes to Avoid When Buying Natural Skincare?
Please note that by entering your email address you are subscribing to the Root Science newsletter. No pressure, you can unsubscribe at any time.
Disclaimer: This content is for informational and educational purposes only. It is not intended to provide medical advice or to take the place of such advice or treatment from a personal physician. All readers/viewers of this content are advised to consult their doctors or qualified health professionals regarding specific health questions. Neither Root Science nor the publisher of this content takes responsibility for possible health consequences of any person or persons reading or following the information in this educational content. All viewers of this content, especially those taking prescription or over-the-counter medications, should consult their physicians before beginning any skincare, nutrition, supplement or lifestyle program. The views and products expressed are not intended to treat, cure or prevent any disease.
Sources:
https://www.ncbi.nlm.nih.gov/pmc/articles/PMC2941837/
https://www.ncbi.nlm.nih.gov/pmc/articles/PMC5796020/
http://impactfactor.org/PDF/IJPPR/7/IJPPR,Vol7,Issue4,Article16.pdf
https://www.ncbi.nlm.nih.gov/pmc/articles/PMC3803126/
https://www.sciencedirect.com/science/article/pii/S0928098706003241
https://www.ocl-journal.org/articles/ocl/full_html/2018/05/ocl180019/ocl180019.html
https://www.ncbi.nlm.nih.gov/pmc/articles/PMC4583440/