Description
French Green Clay
Sourced from France
Micro molecules supercharge absorption power, pulling excess oils, toxins, and impurities, reducing blemishes and stimulating blood flow for repair.
Neem Leaf
Sourced from India
Highly antibacterial, targets acne inducing bacteria, preventing onset of blemishes and accelerating recovery time.
Bentonite Clay
Sourced from United States
A powerful healing clay that's rich in skin soothing minerals. Binds to toxins, excess oil, dead skin cell, minimizing pores, blemishes and improving skin texture.
Calendula Flower
Sourced from United States
Renown wound healer and skin soother, carotenoids protect skin from environmental stress and sun damage.
Turmeric Root
Sourced from India
Youth enhancing Curcuminoids suppress melanin production for brighter skin and naturally occurring salicylic acid keeps blemishes at bay.
Gotu Kola
Sourced from India
Rich in phytonutrients, primary constitutents triterpene saponins stimulate collagen production, strengthening skin structure and reduce the appearance of wrinkles.
The Process
Mineral rich clays are unrefined and sun-dried. Roots + herbs + flowers are sourced from certified organic farms. Wild medicinal plants are distilled to produce therapeutic grade essential oils. 11 active ingredients are hand blended in synergistic quantities proprietary to Root Science. Tried and tested by real people to ensure maximum skin enhancing benefits.
The Experience
Stimulating mineral clays and soothing herbs restore skin back to a state of harmony. Concentrated nutrients activate with water and powder transforms into a creamy pudding. Rich velvet mud cools skin on contact and detoxification begins.
The Standard
Housed in stunning dark violet glass for the highest standard in freshness and potency. Concentrated dry formula eliminates water induced bacteria and preservatives. Violet glass instead of clear prevents light degradation and rancidity. Purest form of organic + wild crafted ingredients are protected for skin safety and efficacy.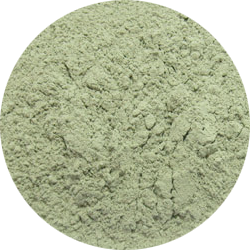 Featured Ingredient: French Green Clay
French Green clay, also known as Illite Clay or Sea Clay, is mined from bedrock quarries in France.  The clay we use at Root Science is of the highest quality, sun-dried, unrefined and contains no fragrance or additives. The use of mineral clay dates back thousands of years and has been used by people around the world for its miraculous skin benefits.  French green clay is a bio-mineral and contains natural minerals such as Silica, Calcium, Magnesium, Zinc, Iron, Copper, Potassium, Aluminum, Sodium, Selenium, Cobalt, Titanium, and Phosphorous. Along with the abundant mineral content, French green clay is also rich in phytonutrients, micro-algae and kelp.  These inherent properties are the reasons why French green clay is a powerhouse of skin benefits. French green clay is also highly prized for its ability to stimulate blood flow to damaged skin cells. It tones, tightens and rejuvenates your complexion as it absorbs oil, impurities and removes dead skin cells.  A savior for those with oily and problematic skin conditions such as acne.
 Natural · Organic · Cruelty Free · Vegan · Made in Portland