Description
Organic Camellia Oil
Sourced from Japan
Rich in hydrating essential fatty acids responsible for increasing skin's suppleness, elasticity and moisture levels.
Organic Sacha Inchi Oil
Sourced from Peru
Renown for being the highest plant-based source of Omega-3 linoleic acid, reducing the occurrence of breakouts and clogged pores.
Organic Sea Buckthorn Oil
Sourced from Germany
A nutritional and antioxidant powerhouse that's been scientifically studied for its healing and anti-inflammatory benefits to skin. Contains pro-vitamin A, lycopene, omega 3, 6 , 7 and vitamin E.
Organic Prickly Pear Oil
Sourced from Tunisia
Abundant source of Vitamin E, this antioxidant powerhouse accelerates healing and protects skin from UV damage and collagen breakdown.
Organic Helichrysum Oil
Sourced from Italy
Powerful antibacterial properties of this essential oil keep breakouts at bay as tissue regenerating diketones reduce the appearance of scars and induce vibrancy.
Organic Passionfruit Oil
Sourced from Peru
Contains pro-vitamin A, decreasing appearance of uneven skin tone and improving skin texture.
The Process
Premium quality oils are sourced raw, organic, unrefined and non-deodorized for maximum nutrient density. Therapeutic grade essential oils are distilled from wild medicinal plants. Twenty active + skin loving ingredients are hand blended in synergistic quantities proprietary to Root Science. Tried and tested by real people to ensure optimal skin benefits.
The Experience
An intoxicating whirlwind of crisp citrus, sweet floral and warm honey notes arouse senses and invigorate skin. Serum warms in the palm of your hand and nutrients are gently massaged into face and décolleté. Lavish botanicals drench complexion in glow activating vitamins as moisture rich oils quickly absorb, unveiling perfectly primed skin and a new state of health.
The Standard
Housed in stunning dark violet glass for the highest standard in freshness and potency. Concentrated, water-free formula eliminates fillers and preservatives. Pumps instead of droppers reduce oxygen induced rancidity. Violet glass instead of clear prevents light degradation. Purest form of organic + wild crafted ingredients are protected for skin safety and efficacy.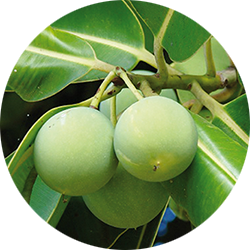 Featured Ingredient: Tamanu Oil
The tamanu tree is indigenous to tropical Southeast Asia. It takes 220 pounds of tamanu fruit; the amount one tree produces annually, to yield only 11 pounds of this cold pressed oil. For hundreds of years, tamanu oil has been used by the region's natives to heal numerous skin ailments. Studies on tamanu oil have proven it to be comparable to that of an antibiotic when alleviating certain maladies, due to its lipid content, specifically the antibiotic Lactone. Tamanu has also been studied for its ability to reduce the appearance of scars, with results nothing short of a miracle. Valued for its superior healing benefits and skin regenerative properties, tamanu oil also contains anti-inflammatory, antimicrobial and antibacterial properties as well as fungicide and bactericide agents. This incredible oil also promotes new tissue formation, accelerating healing and healthy skin growth. For the aforementioned reasons, tamanu oil is revered as an overall healer of most skin ailments, and that is why WE LOVE TAMANU OIL here at Root Science! You might notice we use it in almost all of our facial moisturizer formulas – how could we not!
Natural · Organic · Cruelty Free · Vegan · Made in Portland