There's nothing better than relaxing with a face mask after a long day, and clay masks are a go-to for many of us. After-all, they feel amazing when applied to the skin and the instant results are addictive, in the best way. If you've ever used a clay mask, then you've likely used a mask with kaolin clay in it.
In this post we'll review the top skin benefits of using kaolin clay. If you're looking for a gentle way to unclog pores while keeping your skin looking healthy and glowing, then keep on reading!
What is Kaolin Clay?
Kaolin clay, also known as white clay, originates from Southern China and has been used for centuries. Kaolin is one of the most abundant minerals on earth and is mined all over the world. Kaolin clay is usually white but can have a pink, green or red tint, depending on the mineral composition. Today, you can find kaolin clay in everything from pottery to beauty products. Kaolin clay is a popular skincare ingredient due to its gentle cleansing powers and skin beautifying mineral content.
Skin Beneficial Properties of Kaolin Clay
The color of kaolin clay is determined by the mineral composition. The primary mineral found in the kaolin clay is a white mineral called kaolinite. The red or pink tints can come from a higher concentration of iron oxide as well as illite, calcite and montmorillonite. A green tinted clay gets its color from various plant matter in addition to iron oxide. It can benefit a variety of common skin concerns such as; acne, sensitive skin, excess oil, clogged pores and can even be used as a natural skin brightener.
Top 7 Skin Benefits of Kaolin Clay
1. Kaolin Clay Gently Cleanses
Contrary to the typical cleansers offered by mainstream skincare companies, which are typically in some sort of gel or cream form, kaolin clay is one of nature's best cleansers! It's mild enough for sensitive skin while still providing a thorough cleanse. It deep cleans and absorbs impurities without the use of irritating foaming agents or common cleansing ingredients that can strip skin, leaving it feeling irritated and tight. With regular use, kaolin clay helps improve the look of tired, dull skin and gently works to reveal a brighter, smoother looking complexion. Some studies even found that it has the ability to reduce the appearance of fine lines and wrinkles.
2. Kaolin Clay Absorbs Excess Oil
Skin naturally produces oil to keep it healthy, moisturized and protected from environmental aggressors. However, when your skin overproduces oil (which can be a result of using drying skincare products) it can lead to clogged pores and blemishes. If you're looking for a natural way to combat excess oil production without stripping the skin or leaving it dry and flaky, kaolin clay is an excellent option. It's mild enough for sensitive skin types while still being effective in helping to balance oil production with consistent use.
3. Kaolin Clay Reduces the Look of Blackheads and Pores
Everyone has looked in the mirror at one point and noticed clogged pores, which can look like tiny black dots. Everyday products and factors like makeup, sunscreen, as well as city grime, dead skin cells can accumulate on the skin and result in clogged pores. Luckily, kaolin clay is perfect for deep cleaning pores and reducing the look of blackheads. Consistent use can reduce blackheads and make pores appear smaller.
*You cannot change the size of your pores but it is possible to make them appear smaller by using pore cleansing products that absorb black heads, such as clay masks.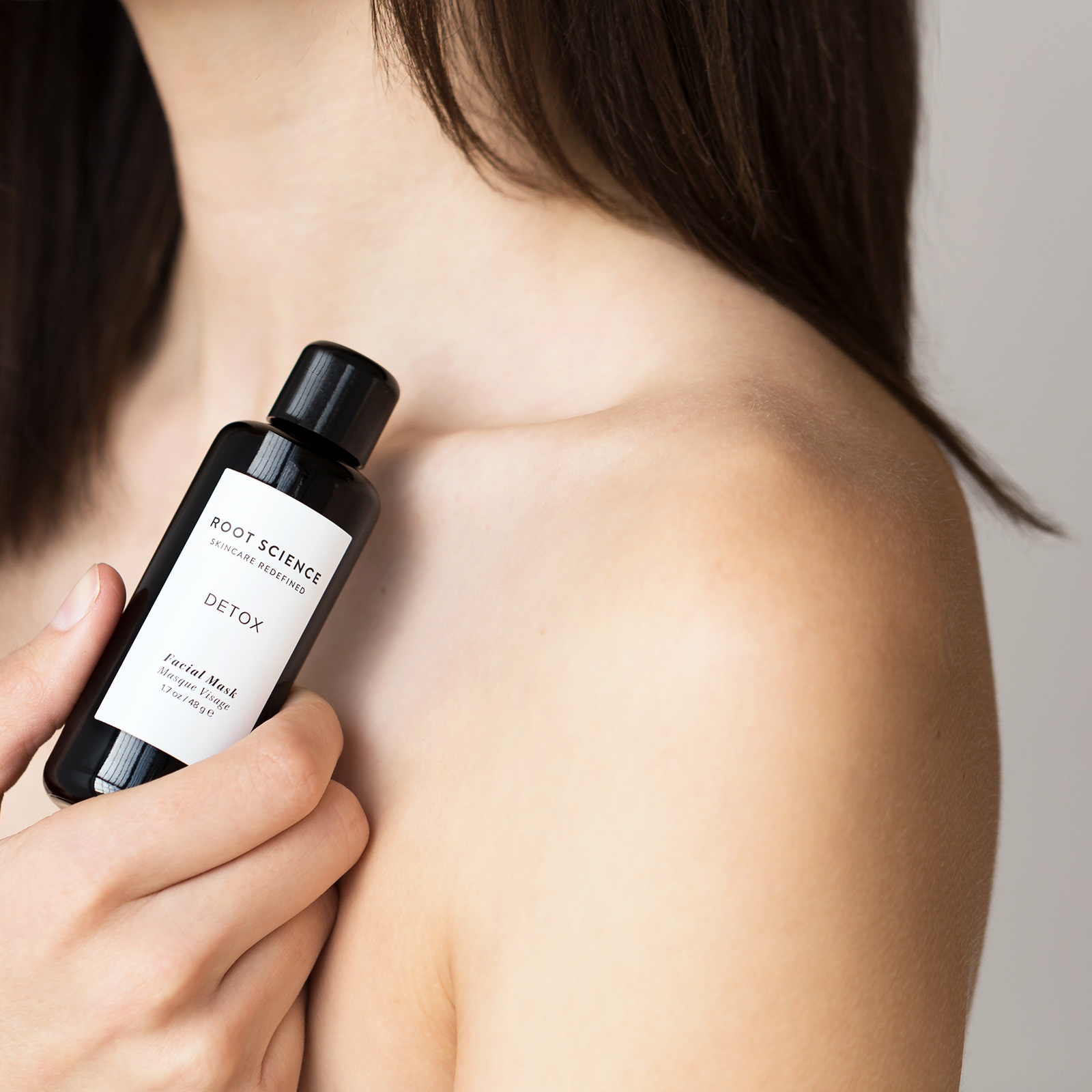 Organic. Phytoactive. Skin Nourishment.
Looking For A Kaolin Clay Powered Mask?
4. Kaolin Clay Acts As A Gentle Acne-Fighter
Kaolin clay is an excellent choice for acne and the resulting irritation that accompanies it. Kaolin clay absorbs impurities and excess oil that can clog pores and lead to breakouts, all without irritating the skin or causing imbalances that are responsble for the vicious cycle many people get stuck in when using traditional acne treatments. Repeated use of clay rich in skin beneficial minerals can reduce the appearance of redness and irritation – while leaving the skin's microbiome balanced.
5. Kaolin Clay Can Be Used For Sensitive & Dry Skin
Negatively charged clay binds to positively charged free radicals and toxins. It also absorbs dead skin cells and impurities, without disturbing healthy skin. Kaolin clay can be a calming treat for sensitive skin, especially if prone to acne. By gently removing surface impurities, excess dirt, and pollution that can cause irritation, kaolin clay is a natural alternative to harsh exfoliating acids and cleansers. It's been used throughout history as a topical treatment for a variety of skin concerns, including bug bites.
*If you have sensitive skin its always best to do a patch test to ensure skin compatibility. It's recommended that you apply a small amount of the product or ingredient in question to a discreet area such as the inside of your elbow or side of your neck. Then wait 24 hours to look for signs of redness or irritation.
6. Kaolin Clay Provides Gentle Exfoliation
When it comes to a good exfoliator, you want to find a formula that's going to improve your skin texture by sloughing away dead skin cells and pollution buildup – without leaving your skin feeling tight and dry. Because of its slightly grainy texture, kaolin clay acts as a gentle exfoliant by helping to cleanse the dirt and impurities your skin comes into contact with throughout the day – leaving you with a soft and smooth complexion.
7. Kaolin Clay Naturally Brightens The Look Of Skin
Using a clay mask weekly helps to remove buildup of dead skin and impurities, which can make your skin tone appear uneven and dull if left to accumulate. When you remove these impurities from the top layer of your skin, your skin's ability to reflect light is improved and in return it appears brighter and more even-toned. Causes for dull skin can also be the result of lack of sleep, poor nutrition, using the wrong skin care products, excess alcohol or dehydration. If you're looking to achieve a brighter, healthy-looking complexion, using the correct skincare products for your unique skin needs is just as important as a proper diet. Because of its gentle exfoliating and cleansing properties, kaolin clay acts as a natural skin brightening ingredient. Regular use of kaolin clay also helps skin to appear brighter by gently increasing circulation, which promotes a natural glow. Plus, it keeps blemishes and clogged pores at bay. It may even help to minimize the look of redness and irritation, which improves the overall appearance of skin tone.
What Skin Types Benefit From Using Kaolin Clay?
Dry Skin Types: Kaolin clay is gentle enough to use on dry skin. It helps to remove flaky skin, impurities from pores and excess oil – all without leaving skin feeling stripped of its natural oils.
Oily Skin Types: Kaolin clay is a great way to combat excess oil production without having to resort to harsh cleansers or exfoliating acids.
Sensitive Skin Types: Kaolin clay is one of the most gentle clays for skincare and its inherent properties make it ideal for skin in need of a gentle pore cleansing mask or exfoliant.
Acne-Prone Skin Types: Kaolin clay absorbs dirt along with the bacteria and other pore-clogging impurities contained within it, making it an uphill battle for blemishes.
How To Use Kaolin Clay For Skin
Kaolin clay is commonly found in face masks, cleansers, exfoliators and spot treatments. It's rich in silica and because it's one of the mildest clays available, it's suitable for all skin types. When kaolin clay is mixed with water it becomes a smooth paste that dries after a few minutes. As kaolin clay dries, it absorbs impurities while also gently exfoliating and cleansing the skin, without disrupting the microbiome or dissolving the top layer of skin, which can make skin extra sensitive to the sun.
If you've been searching for a kaolin clay product to add to your skincare routine, pay attention to ALL of the ingredients listed on the label. Look for an option that has been formulated to address your unique skin needs (e.g. sensitive skin, redness, clogged pores, excess oil production, etc.) and uses additional ingredients that enhance the effectiveness of kaolin clay, such as skin-loving herbs and protective antioxidants.
The Bottom Line
Kaolin clay is an excellent skincare ingredient on its own or as part of a comprehensive formula. It offers numerous skin benefits without any draw backs, so what's not to love!
Shop Featured Products
Want To Know The Top 5 Mistakes to Avoid When Buying Natural Skincare?
Please note that by entering your email address you are subscribing to the Root Science newsletter. No pressure, you can unsubscribe at any time.
Disclaimer: This content is for informational and educational purposes only. It is not intended to provide medical advice or to take the place of such advice or treatment from a personal physician. All readers/viewers of this content are advised to consult their doctors or qualified health professionals regarding specific health questions. Neither Root Science nor the publisher of this content takes responsibility for possible health consequences of any person or persons reading or following the information in this educational content. All viewers of this content, especially those taking prescription or over-the-counter medications, should consult their physicians before beginning any skincare, nutrition, supplement or lifestyle program. The views and products expressed are not intended to treat, cure or prevent any disease.
Image Sources: Mineral Clay via Annie Spratt