If you've been on the hunt for skincare ingredients that deliver results, you've likely come across retinol. This dermatologist-loved ingredient is the gold standard for visibly reducing signs of aging and has been clinically proven to deliver a host of skin benefits that range from minimizing the look of wrinkles to evening skin tone. However, for many, retinol is not a viable option for various reasons – such as photosensitivity or pregnancy. That's why we've rounded up our top 6 retinol alternatives – ingredients that deliver major results, without the worry or side-effects of using traditional retinol.
Keep on reading to discover which of these retinol alternatives is going to be the best option for your unique skin needs.
1. Bakuchiol
The best retinol alternatives are ingredients that deliver similar results, without the undesirable side-effects. And that's why bakuchiol is currently our top recommendation as a retinol alternative. This natural compound contains antioxidant, anti-inflammatory, and anti-aging properties and has been clinically evaluated against retinol with impressive results.
In a 12- week study, bakuchiol made significant improvements on fine lines and wrinkles, overall firmness and evening of skin tone – without the common side-effects of retinol such as redness, peeling and increased photosensitivity. Plus, bakuchiol is derived from a plant, so if you're looking for a natural retinol alternative, it checks that box too.
2. Vitamin C
Vitamin C is another science-backed, dermatologist recommended cosmetic ingredient that has the ability to reduce visible signs of aging and improve the look of uneven skin tone. Clinical studies have demonstrated that when used over three months, vitamin C is effective at decreasing sun spots and wrinkles. Another lesser-known benefit of using topical vitamin C is its blemish-busting ability.
All of these benefits make it a great retinol alternative during pregnancy and breastfeeding as it has no contraindications nor does it make skin photosensitive, a major concern during pregnancy and postpartum as hormones can cause increased sensitivity to the sun along with the mask of pregnancy aka melasma
However, not all vitamin C serums are created equal. There are numerous forms of vitamin C available and some work better than others. Because vitamin C is highly unstable – it becomes ineffective when exposed to light, air and water – it is best to opt for a stabilized form, such as tetrahexyldecyl ascorbate. It also happens to be a gentler form, making it suitable for sensitive skin.
3. Niacinamide (aka Vitamin B3)
Niacinamide is the most common form of vitamin B3 used in cosmetic formulas. This water-soluble vitamin works to support optimal skin barrier function and visibly minimizes signs of aging.
Niacinamide is also renowned for its tone improving powers – helping to minimize the look of dark spots and redness. It's super gentle, making it suitable for sensitive skin and just like vitamin C, can be used during pregnancy and breastfeeding.
4. Peptides
Peptides are some of the hottest cosmetic ingredients at the moment. Not only are they beneficially when taken internally, topical application of peptides has also been shown to provide a wealth of positive effects to the skin.
Peptides function as messengers by communicating with cells. They can send signals that tell cells to promote more collagen and elastin. There are many types of peptides available in skincare formulas and with that the kind of results you can expect with each will vary.
For the sake of choosing peptides that can offer benefits similar to retinol, we'll list a few that come close:
Palmitoyl Tripeptide-38
Studies performed on palmitoyl tripeptide-38 showed that it stimulates six major proteins, including collagen and hyaluronic acid, thus improving the appearance of fine lines and wrinkles, with a particular effectiveness on the forehead and around the eyes; two areas of major concern when it comes to visible signs of aging.
Palmitoyl Tetrapeptide-7
Also known as matrixyl 3000, this peptide acts as a messenger for repair; restoring and maintaining skin's youthful appearance. In a clinical study, matrixyl 3000 increased 4 different types of collagen in skin, with wrinkle depth reductions that ranged from 10-20%.
Acetyl Hexapeptide-8
Also known as argireline, this peptide is sometimes referred to as botox in a bottle. This is because it helps to limit facial muscle movement, similar to Botox. However, the effect is not as strong as Botox, so it's not considered a replacement. Regardless, it's still very impressive for a non-invasive topical treatment.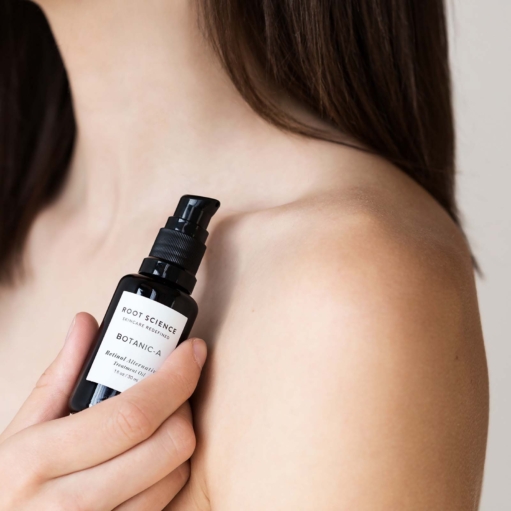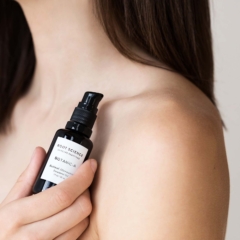 Organic. Phytoactive. Skin Nourishment.
Looking For Retinol-like Results, Without Irritation?
5. Sea Buckthorn
Sea buckthorn is sometimes referred to as a natural retinol alternative due to its high nutrient content. This superfruit has over 190+ bioactive substance, helping to tackle visible signs of aging from various angles, in addition to acting as a topical multivitamin for your skin.
Some of the standout nutrients in sea buckthorn include vitamin E, pro-vitamin A, lycopene, and omega 3, 6, 7 and 9. This antioxidant powerhouse protects, corrects and nourishes skin all while replenishing moisture to skin.
6. Azelaic Acid
Azelaic acid is a dermatologist recommended ingredient available by prescription or over-the-counter (at a lower percentage). Azelaic acid is an effective treatment for various skin concerns; including acne, rosacea and hyperpigmentation.
When comparing azelaic acid to retinol, there are overlapping benefits, however, it outshines retinol in some areas. First, it's a much gentler treatment than retinol. Second, it doesn't cause photosensitivity. And last but not least, it can be used by pregnant and/or nursing individuals.
Retinol Alternatives Frequently Asked Questions
What Is The Best Natural Retinol Alternative?
Of all the natural retinol alternatives available, Bakuchiol is currently the only one that comes close to delivering retinol-like results. Bakuchiol has clinical data to back up its effectiveness and results show similar results without negative side-effects.
What Are Retinol Alternatives I Can Use During Pregnancy?
If you are looking for pregnancy-safe skincare ingredients that deliver results, you have options. Vitamin C, niacinamide, azelaic acid and peptides can be used by those who are pregnant and breastfeeding. However, we always advise consulting with your physician or dermatologist, just to be on the safe side.
Is Rosehip Oil A Retinol Alternative?
Although rosehip oil is often touted as a retinol alternative, the science says otherwise. Rosehip oil does not have enough retinoic acid to deliver retinol-like results. It does however serve as a wonderful moisturizer as its chock full of protective antioxidants, rejuvenating nutrients and skin-beneficial fatty acids.
Shop Featured Products
Want To Know The Top 5 Mistakes to Avoid When Buying Natural Skincare?
Please note that by entering your email address you are subscribing to the Root Science newsletter. No pressure, you can unsubscribe at any time.
Disclaimer: This content is for informational and educational purposes only. It is not intended to provide medical advice or to take the place of such advice or treatment from a personal physician. All readers/viewers of this content are advised to consult their doctors or qualified health professionals regarding specific health questions. Neither Root Science nor the publisher of this content takes responsibility for possible health consequences of any person or persons reading or following the information in this educational content. All viewers of this content, especially those taking prescription or over-the-counter medications, should consult their physicians before beginning any skincare, nutrition, supplement or lifestyle program. The views and products expressed are not intended to treat, cure or prevent any disease.
Image Sources: Lines via Krišjānis Kazaks