On the hunt for the best anti-aging face oils? Then look no further. After more than a decade of research, sourcing, and formulating our high-performance face oils, we're sharing the best oils to help fight visible signs of aging.
Below we've compiled a list of the best anti-aging botanical oils that target fine lines, wrinkles and dark spots. Keep reading to find out which of these is powerhouse oils may work best for your unique skin needs and goals.
The Best Anti-Aging Face Oils
We've said it before and we'll say it again, aging is a privilege and journey not to be taken for granted. Which is why we don't love the term anti-aging; however, due to its widespread use in the skincare industry, we've decided to use it in this article. And we get it, not everyone loves the idea of wrinkles and dark spots taking center stage on their face. Which is why so many are on the hunt for "anti-aging" products, which we prefer to call age supportive.
Rosehip Oil
Rosehip oil is considered one of the best anti-aging face oils due to its nutritional content and omega fatty acid profile. Rosehip oil is chock full of antioxidants, carotenoids, omega fatty acids and vitamin E — all of which work in unison to nourish and moisturize even the driest skin. This multi-tasking oil replenishes moisture while tackling signs of aging, such as fine lines and wrinkles. Rosehip oil helps you to maintain a healthy, glowing complexion now and for years to come.
With all of the great benefits of rosehip oil, one must beware that most rosehip oil on the market is cold-pressed, which sounds great in theory, but in reality, is an inferior method of extraction — thus not allowing it to live up to its skin-glowing potential. Due to rosehip oil's fragile nature, cold-pressing quickly degrades the oil, leaving it with less nutrients and a short shelf life.
Currently, the best rosehip oil is extracted via super critical CO2 extraction — as it does not expose the oil to air and retains maximum nutrients and antioxidants. CO2 extracted rosehip oil is what we use in our Restore moisturizing serum.
Sea Buckthorn Oil
With over 190 bioactive substances, sea buckthorn is a nutritional powerhouse and topical multi-vitamin for your skin. It's a superb oil for all skin types and concerns, especially dry and mature skin.
In addition, sea buckthorn contains omega-fatty acids 3, 6, 7 and 9. These fatty acids play an important role in supporting optimal skin function and improving the overall appearance of skin. They help to protect against dryness, improve hydration and balance oil production – keeping skin smooth and supple. Omega fatty acids also assist in delivering antioxidants and other skin-beneficial nutrients, acting as a natural and effective delivery system.
Jojoba Oil
Jojoba oil is a beloved oil due to being highly skin compatible and non-pore clogging. It has a similar composition to the sebum (oil) our skin produces, making it mother nature's perfect moisturizer. It's truly a multi-tasking oil with numerous skin benefits.
When applied to the skin as a face oil, jojoba provides a protective moisture barrier while feeding skin flavonoids and vitamin E — a powerful antioxidant that defends against oxidative damage; a leading contributor to skin damage and signs of aging such as fine lines, wrinkles and dark spots.
Jojoba oil is also very effective at relieving dry, irritated skin, making it suitable for sensitive skin conditions such as eczema and rosacea. Jojoba oil sinks into skin effortlessly and provides all-day moisture, revealing skin that looks and feels better with each use.
Tamanu Oil
Tamanu oil has a long history of usage in Polynesia due to its regenerative properties. Now widely available in the US, you'll typically find it in formulas that target scars, acne and skin rejuvenation. It contains a unique combination of therapeutic constituents not found in other oils, specifically calophyllic acid, calophyllolide and lactone, providing antibacterial, anti-inflammatory and antibiotic benefits to skin.
Tamanu oil is also a rich source of coumarins and xanthones, two potent antioxidants that help to protect skin from free radical damage. Polyphenols present in tamanu oil have been found to have promising photoprotective effects, aiding in the fight against signs of aging caused by UV damage.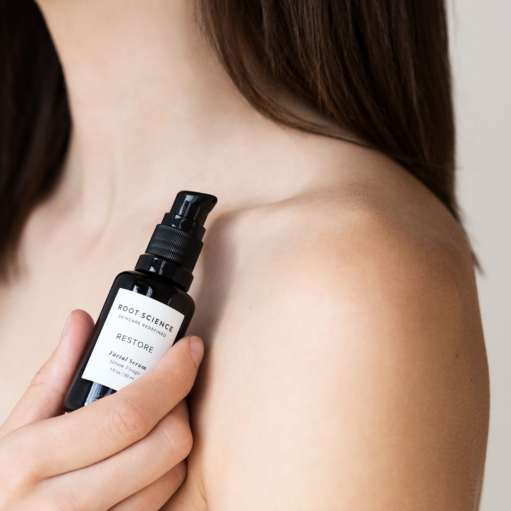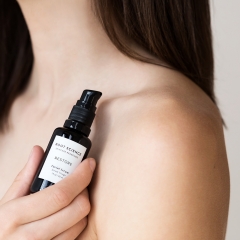 Organic. Phytoactive. Skin Nourishment.
Experience The Best Anti-Aging Face Oils
Pomegranate Oil
Considered a superfood by many, pomegranate oil is a rare find in face oil formulas, but very much worth the search. This high-performance oil is rich in antioxidant activity and has a deeply nourishing and rejuvenating effect on skin — leaving it with an undeniable glow and softness.
Pomegranate's anti-aging effects come from its high levels of phenolic compounds, specifically punicic acid (omega-5 fatty acid) and punicalagins. These compounds provide potent anti-inflammatory and antioxidant benefits to the skin.
Omega-5 fattty acid is also of special interest due to being very rare while also being one of the most powerful antioxidants known to modern science. In one study, pomegranate oil demonstrated a mild skin thickening effect.
If you're looking for one of the best anti-aging face oils, Pomegranate oil is not to be missed in your ingredient deck.
Macadamia Oil
Macadamia oil is prized for its ability to nourish and restore moisture to extremely dry skin, while also providing a dry, soft finish. It's unique due to the fact that it contains high amounts of a rare fatty acid called palmitoleic acid, aka omega 7-fatty acid.
Palmitoleic acid is highly beneficial to mature skin because our skin produces less of it as we age, thus requiring us to replenish it internally and externally. This fatty acid is also what gives macadamia oil a juicy, cushiony feel after application. Plus, it's easily absorbed by the skin and leaves it feeling velvety soft.
Macadamia oil contains phytosterols which replenish and visibly plump aging skin, increasing suppleness. In one study, topical application of phytosterols demonstrated a reduction collagen breakdown after UV exposure as well as a stimulating effect on collagen.
In addition, it's also rich in antioxidants, which help to neutralize free radicals that can cause cellular damage — a major contributor to visible signs of aging such as dark spots and wrinkles.
Raspberry Seed Oil
This sweet smelling, golden oil transports you to a warm, summer day. It not only feels luxurious when applied, but is also highly beneficial to skin. Raspberry seed oil contains skin-loving phytosterols, carotenoids, and vitamin E, working in synergy to replenish moisture, rejuvenate and protect against oxidative damage.
It also contains alpha linoleic acid, an essential fatty acid that helps to smooth fine lines and wrinkles, solidifying its place as one of the best anti-aging face oils.
Although raspberry oil is often touted in the wellness world as a sun protective oil, the fact of the matter is that it does not work as an effective sunscreen alternative and should never be used as that, unless you want to risk major sun damage.
Shopping For An Anti-Aging Face Oil? Here's What To Look For:
Protective Packaging
Look for a face oil that's housed in light-protective glass packaging, such as an amber or black glass bottle. Choose a bottle with a pump, as droppers introduce air each time you use, increasing the rate at which the oils degrade and go rancid.
Preserved With Antioxidants
Antioxidants extend the shelf life of a face oil. Look for formulas that contain vitamin E or rosemary extract as these help the oils remain fresher, longer.
Free From Irritating Fragrance and/or Photosensitizing Essential Oils
Added fragrance/perfume and photosensitizing essential oils have no benefits to your skin, and for many, can cause allergic reactions and irritated skin. Essential oils such as lemon, grapefruit and bergamot (think citrus) can make skin sensitive to the sun — making you more susceptible to skin damage — which is why we recommend avoiding them.
Anti-Aging Face Oil Frequently Asked Questions
Which Oils Are Best For Dry, Mature Skin?
The best oils for very dry, mature skin are rosehip, sea buckthorn and macadamia. This is because they provide rich moisture and tackle signs of aging all at the same time — simplifying your skincare routine while leaving your skin soft, glowing and rejuvenated.
Is A Face Oil Or Cream Better For Aging Skin?
Face oils and creams have benefits to aging skin. Depending on your skin, you may benefit from using both. However, if you find yourself on the sensitive side, a simple face oil may be exactly what your skin needs. We recommend experimenting to find what works best for your unique skin.
Should You Apply Oil Before Or After Moisturizer?
Always apply products in order of weight, lightest to heaviest. A face oil is typically applied last. We recommend experimenting to see what works best for your routine.
The Bottom Line
Botanical oils contain a wealth of skin rejuvenating constituents from flavonoids, phytosterols and carotenoids to vitamins, omegas 3, 5, 6, 7, and 9 and more. They provide photo-protective, anti-inflammatory, antioxidant and regenerative benefits to skin. It's no wonder they have the ability to not only impart an undeniable glow, but also visibly reduce signs of aging, i.e. wrinkles and dark spots. Considering all the benefits listed above, one would be remiss not to incorporate botanical oils into their daily skin preservation routine!
Shop Featured Products
Want To Know The Top 5 Mistakes to Avoid When Buying Natural Skincare?
Please note that by entering your email address you are subscribing to the Root Science newsletter. No pressure, you can unsubscribe at any time.
Disclaimer: This content is for informational and educational purposes only. It is not intended to provide medical advice or to take the place of such advice or treatment from a personal physician. All readers/viewers of this content are advised to consult their doctors or qualified health professionals regarding specific health questions. Neither Root Science nor the publisher of this content takes responsibility for possible health consequences of any person or persons reading or following the information in this educational content. All viewers of this content, especially those taking prescription or over-the-counter medications, should consult their physicians before beginning any skincare, nutrition, supplement or lifestyle program. The views and products expressed are not intended to treat, cure or prevent any disease.
Image Sources: Abstract Painting via Susan Wilkinson