If you're looking to maintain happy, healthy skin, then keeping it calm and protected against environmental aggressors is of utmost importance. And that's where bisabolol can help. This prized, researched-backed, cosmetic ingredient helps to keep your skin cool, calm and protected. Bisabolol is a naturally occurring chemical present in only a few plants, most famously chamomile. In the skincare world, bisabolol is renowned for its skin-soothing benefits. However, the benefits don't stop there.
In this blog we'll review the top benefits of applying bisabolol to your skin and how to incorporate this stellar ingredient into your routine.
What is Bisabolol?
Bisabolol, also known as alpha bisabolol, α-bisabolol and levomenol, is a natural component of essential oils and a monocyclic sesquiterpene alcohol obtained by distillation. The distilled version of bisabolol is a concentrated form commonly used in skincare formulas. Bisabolol is the primary constituent of German Chamomile and the magic ingredient that gives it its super powers. It can also be found in the bark of the Candeia tree of Brazil, which is where most of the isolated forms of bisabolol in the cosmetic market are sourced from. It was discovered and first isolated in 1951 and since then has been studied for its various skin benefits. When used in a skincare formula, bisabolol serves as a powerful skin calming agent and potent antioxidant.
Bisabolol Skin Benefits
Our skin is exposed to environmental stressors daily, affecting the way our skin looks and feels. Oftentimes these aggressors, such as pollution, lead to irritation. This is where skin care products that contain bisabolol come into play, helping to calm, defend against daily stressors and improve the look and feel of our skin.
1. Skin Soothing
Skin-soothing cosmetic ingredients work to diminish visible signs of irritation and sensitivity, including redness and uneven skin tone caused by environmental factors. Research shows that topical application of bisabolol may be helpful in visibly soothing skin, thanks to its anti-inflammatory properties.
2. Antioxidant Protection
Antioxidants are vital to overall health. We consume them daily through foods like fresh fruits and vegetables, but research shows that we should also be applying them to our skin. Antioxidants in skin care products help to fend off environmental damage that ages skin. Studies suggest that bisabolol has antioxidant potential, which means it can help to soften the look of fine lines and wrinkles. And it's also well known that antioxidants can help boost skin's vitality and improve the overall look and feel. In addition, when antioxidants are combined in a formula with moisture-replenishing and rejuvenating ingredients, they work in synergy to provide optimal results, leaving your skin looking and feeling its best.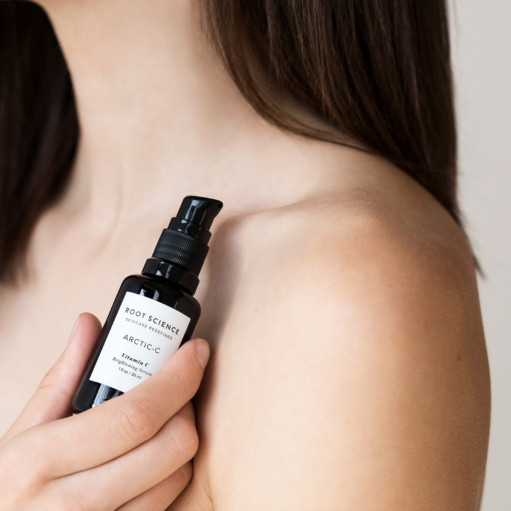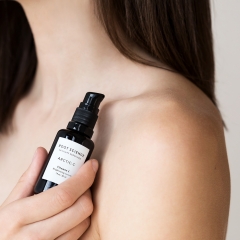 Organic. Phytoactive. Skin Nourishment.
Looking For A Bisabolol-Powered Serum?
3. Assists with Evening the Appearance of Uneven Skin Tone
As mentioned above, the environmental factors our skin encounters on a daily basis takes a toll, leaving most of us with hyperpigmentation aka uneven skin tone. Studies suggest that bisabolol may inhibit melanin synthesis, helping to reduce the appearance of dark spots and even the look of skin tone.
4. Improves Penetration of Active ingredients
One of the primary functions of the skin barrier is to keep things out. But what if those things are the good ingredients in skincare. We don't want those precious drops of goodness sitting on top of the skin. Thankfully, bisabolol helps to enhance penetration of skincare ingredients. There's just one caveat; make sure your skincare products contain only the good stuff.
How To Incorporate Bisabolol Into Your Skincare Routine
Excited to try bisabolol? Simply look for a leave-on formula that includes bisabolol in the ingredient list, such as our Arctic-C Brightening Serum and Botanic-A Bakuchiol Retinol Alternative. The good news is that bisabolol can be found in many products, making it easy to incorporate it into your existing skincare routine.
Shop Featured Products
Want To Know The Top 5 Mistakes to Avoid When Buying Natural Skincare?
Please note that by entering your email address you are subscribing to the Root Science newsletter. No pressure, you can unsubscribe at any time.
Disclaimer: This content is for informational and educational purposes only. It is not intended to provide medical advice or to take the place of such advice or treatment from a personal physician. All readers/viewers of this content are advised to consult their doctors or qualified health professionals regarding specific health questions. Neither Root Science nor the publisher of this content takes responsibility for possible health consequences of any person or persons reading or following the information in this educational content. All viewers of this content, especially those taking prescription or over-the-counter medications, should consult their physicians before beginning any skincare, nutrition, supplement or lifestyle program. The views and products expressed are not intended to treat, cure or prevent any disease.
Image Sources: Chamomile Flowers via Yulia Khvorostiana