Sea buckthorn oil is a nutritional powerhouse with exceptional skin benefits. This bright orange berry has a history of usage that dates back centuries and it's no wonder! It boasts an over-the-top nutrient profile and delivers a plethora of health benefits. This miracle berry also offers major skin benefits when applied topically. In this blog we'll review the top skin benefits of using sea buckthorn oil and how to properly incorporate this transformative oil into your daily routine. Your skin will be glowing (with gratitude) in no time!
What Is Sea Buckthorn Oil?
Sea buckthorn, also known as hippophae rhamnoides, is a shrub native to China and Europe. It produces bright orange fruits that are edible and tasty, known as sea buckthorn berries.
There are two kinds of sea buckthorn oil: seed oil and berry oil. The seed oil is obtained by cold pressing the seeds of the berry. The berry oil is obtained by supercritical CO2 extraction of the fruit pulp. The seed oil is slightly lighter in texture and color and contains less nutrients than the pulp oil. Sea buckthorn berry oil is a dark red color, slightly thicker in texture and contains a wealth of skin beneficial nutrients.
Top 10 Skin Benefits Of Sea Buckthorn Oil
When examining sea buckthorn's exceptional nutrient profile, it becomes clear why this powerhouse ingredient offers so many skin benefits. It contains roughly 190 bioactive substances, and benefits all skin types, including sensitive and blemish-prone.
1. A Topical Multi-Vitamin For Your Skin
Sea buckthorn oil notably contains vitamins E, A, and K, along with lycopene, zeaxanthin and numerous other carotenoids. These nutrients work in unison to visibly correct and protect. Vitamin E serves as an antioxidant, helping to neutralize damaging free radicals and providing protection against environmental stressors. Vitamin A helps to reduce the appearance of wrinkles and uneven skin tone, and may even aid in banishing breakouts. Vitamin K is renown for its brightening ability, reducing the look of dark spots. Carotenoids such as lycopene and zeaxanthin act as antioxidants, as well as precursors for vitamin A. Lycopene is known to prevent photo damage and aids in improving moisture levels. Studies indicate that zeaxanthin may even be helpful in protecting against blue light damage.
2. Provides Protective Polyphenols
Polyphenols are naturally occurring compounds in plant foods, such as fruits, vegetables, herbs, and spices, that offer various health benefits. When applied topically, polyphenols protect skin from oxidative stress caused by environmental aggressors and UV exposure. In addition, they inhibit certain enzymes that break down collagen and elastin, thus helping to maintain healthy skin texture.
3. Contains Skin Strengthening Phytosterols
Phytosterols are naturally occurring compounds found in plant cell membranes. They help to visibly calm irritation and support skin by minimizing trans-epidermal water loss (TEWL). The highest concentrations of phytosterols are conveniently found in plant-derived oils such as sea buckthorn.
4. Delivers Skin Renewing Complex Lipids
Sea buckthorn oil contains phospholipids and glycolipids which have skin renewing and moisturizing benefits. These lipids work together to improve the appearance of skin firmness and reduce the appearance of redness and irritation.
5. Offers A Rare Omega Fatty Acid Composition
Sea buckthorn may be the only plant in the world to contain all four omegas: omega-3, omega-6, omega-7 and omega-9. These fatty acids play a significant role in supporting optimal skin function and improving the overall appearance of skin. They help to protect against dryness, improve skin hydration and balance oil production. Because these fatty acids maintain balanced moisture levels, they reduce the occurrence of blackheads and breakouts. Omega fatty acids are especially skin compatible and help to deliver antioxidants and other skin-beneficial nutrients. Plus, they visibly reduce signs of aging. As you can see, there's a whole lot to love here.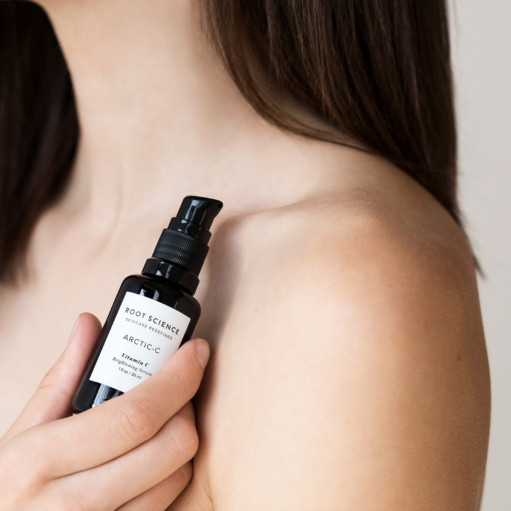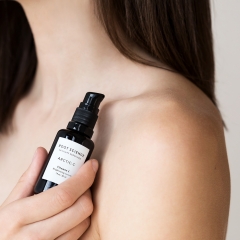 Organic. Phytoactive. Skin Nourishment.
Looking For A Serum Powered By Sea Buckthorn?
6. Sea Buckthorn Oil Deeply Moisturizes
Sea buckthorn oil is biocompatible and acts as a nutrient-rich moisturizer, keeping skin exceptionally soft and supple throughout the day.
7. Sea Buckthorn Oil Helps To Reduce The Appearance Of Wrinkles
With over 190 nutrients and antioxidants, sea buckthorn tackles visible signs of aging from many angles. Vitamin E, A and carotenoids, for example, help visibly smooth out wrinkles and fine lines.
8. Sea Buckthorn Oil Promotes The Appearance Of Even Skin Tone
Vitamin E and A work in unison to even the appearance of skin tone, as well as aid in preventing future discoloration by neutralizing free-radicals.
9. Sea Buckthorn Oil Protects Skin From Environmental Stressors
Prevention is key in maintaining your best skin, now and for years to come. And that's what makes antioxidants an invaluable tool in the good fight against environmental aggressors that accelerate visible signs of aging. With daily application, antioxidants not only provide protection, but also promote a youthful, healthy appearance.
10. Sea Buckthorn Oil Visibly Reduces Redness And Irritation
If you consider your skin finicky, you're probably very conscious of the ingredients you put on your skin. After all, what's worse than waking up with irritated skin or unsightly breakouts when trying a new skincare product? What makes sea buckthorn so beloved is that it works wonders on troubled skin, delivering results without the potential down sides.
Sea Buckthorn Oil Frequently Asked Questions
How To Use Sea Buckthorn Oil For Skin?
Sea buckthorn oil can be applied directly to the skin. However, because it's highly pigmented, it can leave a temporary stain. Therefore, we recommend finding a facial oil blend that incorporates it along with other skin-loving ingredients.
Is Sea Buckthorn Good For Oily Skin?
Contrary to popular belief, certain oils can be very beneficial to oily skin types. If the root cause of excess oil production is dryness, using a face oil such as sea buckthorn will put an end to this viscous cycle. Whether skin is naturally dry or dry due to harsh products such as cleansers and acne products, your skin overcompensates by creating excess oil. However, when you apply oil to your skin, specifically botanical oils, it not only signals your skin to stop producing excess oil, but also locks in moisture, helping to keep it soft, supple and hydrated.
Does Sea Buckthorn Oil Clog Pores?
Sea buckthorn oil has a comedogenic rating of 1. That means it is not likely to clog pores. However, everyone is unique in how they respond to ingredients. As mentioned above, this oil works best when diluted in a properly formulated facial oil blend. This will prevent it from staining skin and if mixed with lighter oils such as squalene or jojoba, the risk for pore congestion is greatly minimized.
Not All Sea Buckthorn Oil Is Created Equal. Buyer Beware.
At Root Science, we pride ourselves on sourcing only the highest quality ingredients available. So, when it came to finding the best sea buckthorn oil, we opted for a supercritical carbon dioxide extraction over cold-pressed. Supercritical CO2 extraction is a state-of-the-art method that preserves the active properties of a plant, yielding the purest plant extracts possible. As popular as the term cold-pressed is, it is an inferior method of extraction when compared to CO2 extractions. Choosing to work with supercritical CO2 extractions of fragile oils, such as sea buckthorn, is especially important because it does not expose the oil to oxygen or high heat, in-turn increasing both shelf-life and the skin beneficial nutrients that keep your skin looking and feeling its best.
Shop Featured Products
Want To Know The Top 5 Mistakes to Avoid When Buying Natural Skincare?
Please note that by entering your email address you are subscribing to the Root Science newsletter. No pressure, you can unsubscribe at any time.
Disclaimer: This content is for informational and educational purposes only. It is not intended to provide medical advice or to take the place of such advice or treatment from a personal physician. All readers/viewers of this content are advised to consult their doctors or qualified health professionals regarding specific health questions. Neither Root Science nor the publisher of this content takes responsibility for possible health consequences of any person or persons reading or following the information in this educational content. All viewers of this content, especially those taking prescription or over-the-counter medications, should consult their physicians before beginning any skincare, nutrition, supplement or lifestyle program. The views and products expressed are not intended to treat, cure or prevent any disease.
Image Sources: Sea Buckthorn via Yulia Khlebnikova