When it comes to using natural skin care products, a laborious 10-step routine is not necessary to achieve the eminent glow so many of us long for. There are certain products that serve as multi-tasking superheroes, acting as the foundation to an effective routine. A face toner is one of those foundational products.
Whether you prefer a minimalistic approach to skincare or want it all, adding a face toner to your skincare routine can make all the difference in not only the look, feel, and long-term appearance of your skin- but also enhance the performance of other skincare products.
Facial toners promote a dewy-looking radiance and remove residue left over from cleansing. They also help to minimize the appearance of pores and so much more. What's not to love?
Below we cover everything you need to know about face toners. We'll explain what a toner does, the skin benefits of using a toner, how to identify the best formula for you and why using a toner is essential for an effective skincare routine.
What Is A Face Toner?
You may be wondering, what exactly is a face toner? From a cosmetic science standpoint, a toner is a skincare product, typically in a liquid form, designed to reduce the appearance of pores by cleansing and refreshing the skin. In recent years, toners have had a complete makeover. They've been newly designed to do so much more than the basic astringent formulas from the past. Today, toners are formulated to cleanse, moisturize and provide additional skin benefits such as exfoliate, hydrate, nourish and protect.
What Does A Face Toner Do?
Toners are oftentimes overlooked as an essential skincare product, viewed as a luxury, not a necessity. However, their function is way more important than one would think.
First, a toner will replenish hydration and when used with a cotton round it will help to remove any remnants of dirt and makeup left after cleansing. It can also help to restore your skin after cleansing, leaving your complexion calm, collected and oh so soft.
Second, toners act as a primer for the rest of the products you apply to your skin, such as serums, face oils and moisturizers. They are especially important when using oil-based serums as your skin thrives on the combination of oil and water. A face toner provides the water component, improving absorption and efficacy of your oil-based serum.
Adding a face toner to your daily skincare routine can often be the key to getting the best results from your products.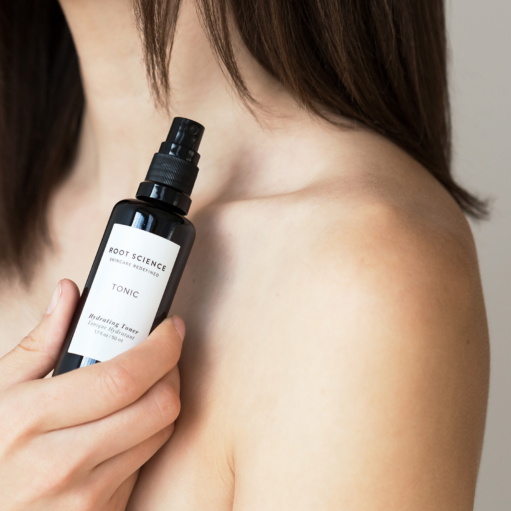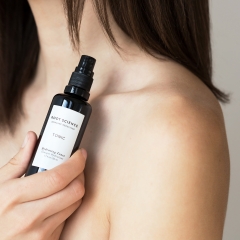 Organic. Phytoactive. Skin Nourishment.
Supercharge Your Skincare Routine With A Hydrating Botanical Toner.
Top 4 Skin Toner Benefits
If you're wondering if you should add a facial toner to your skincare routine, here are our top glow-worthy reasons to make it a staple in your daily ritual. Read on to learn why a facial toner is essential, how it can boost your skincare routine and make your products work even better.
1. Face Toners Cleanse And Refresh Skin
Toners remove residue left over from cleansing, helping to keep your skin feeling smooth and refreshed. They also prevent pore-clogging build up from accumulating.
2. Face Toners Provide Hydration
Facial toners provide the essential hydration component of your skincare routine, helping to give your skin a plump, dewy-look. Use it 1-2x per day and you'll see and feel the difference in no time.
3. Face Toners Address Specific Skin Concerns
A well formulated toner is designed around specific skin concerns and needs, offering a tailored treatment and experience. No matter your skin type or concerns, you can find a toner that suits your needs. Whether it's hydration-boosting, blemish-fighting, brightening or a corrective formula, a toner will help your skincare routine work even harder to support your best skin.
4. Face Toners Prep The Skin For Facial Oils and Subsequent Moisture Treatments
We're all familiar with the fact that oil and water don't mix, but when it comes to your skincare routine, these two are an iconic duo that are essential for healthy-looking skin. Using a toner before an oil-based serum enhances delivery of nutrients and moisture to the skin.
What Type Of Facial Toner Should I Use?
We know that caring for your skin with the very best can feel daunting when the skincare industry is cluttered with endless options. Choosing the right face toner for your skin's needs is not as complicated as you might think. As long as you have a basic understanding of the type of ingredients to look for and avoid, you're on the right track. First off, you want to make sure the formula is as pure and natural as can be. Formulas that use less ingredients but offer multiple benefits are best as they minimize potential for irritation. Second, we recommend avoiding ingredients that are known for causing more harm than good. These questionable ingredients can cause irritation and further exacerbate the skin concerns you're trying to address in the first place. Below you will find some of the best ingredients to look for along with the most common skin irritants to avoid.
Best Face Toner Ingredients To Look For
Hydrating
Traditionally speaking, toners are made with water, which offers no skin benefits. However, hydrosols, also known as floral water, such as rose water, replace plain water and supercharge a formula. These floral waters replenish hydration and provide additional skin beneficial plant compounds that cleanse, tone and soothe.
Cleansing
Look for ingredients that clean pores and exfoliate. Witch hazel has long been used for its numerous skin benefits. And when the pure, alcohol-free extract is used in a formula, it can help to tone, tighten, cleanse and balance excess oil, helping to reduce the appearance of pores.
Nutrient-Boosting
Nutrient-rich ingredients help your toner kick it up a notch in the results department. Look for high-performance and research backed ingredients such as, licorice root, sea kelp, beta-glucan and vitamin B5. These superstars help to rejuvenate and protect, evening the appearance of skin tone and visibly minimizing multiple signs of aging.
Humectants
You may be wonder what is a humectant and why do I need it in my skincare? Simply put, it's an ingredient that attracts to water. Humectants not only bind to water but also absorb moisture from the air, keeping your skin properly hydrated throughout the day. Look for tried and true humectant superheroes such as glycerin, hyaluronic acid, allantoin, aloe vera, and algae.
Antioxidants
Truth be told, we encounter free radicals on a daily basis. So it's safe to say that applying topical antioxidants is going to be one of the best defenses against these skin-emies. And the more variety, the better, as each antioxidant serves a unique purpose. We adore Swiss edelweiss for its potent variety of antioxidants along with its numerous skin-loving phytocompounds.
Face Toner Ingredients to Avoid
What you don't put on your skin is just as important as what you put on it.
Alcohol
This is the notorious ingredient that gave toners their bad reputation to begin with. Alcohol not only dries out the skin, but also causes serious imbalances, so it's best to steer clear of it as it offers no skin benefits.
Photosensitizing Ingredients
A serious topic that deserves way more attention than it gets is photosensitizing ingredients in skincare. Certain ingredients increase sensitivity to the sun, which in return increases potential for sun burn and skin damage. These ingredients need to be used with serious caution or avoided completely if you're not prepared to lather on a high SPF sunscreen and wear a hat. The most common photosensitizing ingredients found in toner formulas include alpha hydroxy acids and beta hydroxy acids, such as benzoyl peroxide, salicylic acid, glycolic acid, lactic acid. Citrus essential oils are natural ingredients that sound innocent but should be avoided, such as bergamot and lemon.
Fragrance and Essential Oils
A simple rule of thumb for most skincare products; avoid all artificial fragrances and perfume. When it comes to essential oils, there's a bit of a grey area. Essential oils should be used with caution. If you use a product with essential oils, make sure they are included at a very low percentage (less than 1%). Essential oils should be included in a formula for their research-backed skin benefits, never scent or fads. However, when it comes to a toner, we recommend skipping them all together as they are not water-soluble, which requires a formula to include a solvent, exposing your skin to non-beneficial ingredients. Choose a toner formula that does more, with less ingredients.
Questionable Synthetics
There's a lot of concern around parabens and phthalates. And the data isn't exactly clear. There are conflicting arguments. However, we like to be extra cautious when it comes to caring for the precious skin on our face. Which is why we recommend avoiding these along with artificial colorants and petroleum derived ingredients.
Frequently Asked Questions
Do I Really Need To Use A Face Toner?
The answer depends on your unique skin needs and skincare routine. If a facial oil is part of your daily routine, then the answer is absolutely yes!! Facial toners provide the essential hydrating component necessary for a complete moisturizing treatment, something oils can not provide on their own.
How To Choose The Best Face Toner For Your Skin Type?
Just as you would choose any of your skin care products, the key to finding the best toner for your skin type is to identify the right ingredients that will work for your unique skin needs. Always check the ingredient label (also known as INCI list) and make sure you're not choosing a toner with questionable or skin compromising ingredient such as alcohol, parabens, artificial fragrance and colorants. Instead, opt for skin-beneficial ingredients such as moisture retaining glycerin, antioxidant-rich edelweiss, soothing rose water and brightening licorice root.
How To Use A Face Toner?
1. Begin by cleansing your face with a gentle, fragrance-free cleanser.
2. Use a cotton round or spray your toner directly on to your skin.
3. Apply your moisturizing facial oil to damp skin and gently massage to blend the toner with the oil. Enjoy the glow!
When To Use A Face Toner?
Use a toner in the morning and the evening, after you cleanse your face. Depending on the type of toner you're using, you may want to use it daily or just a couple of time per week if it exfoliates the skin.
Shop Featured Products
Want To Know The Top 5 Mistakes to Avoid When Buying Natural Skincare?
Please note that by entering your email address you are subscribing to the Root Science newsletter. No pressure, you can unsubscribe at any time.
Disclaimer: This content is for informational and educational purposes only. It is not intended to provide medical advice or to take the place of such advice or treatment from a personal physician. All readers/viewers of this content are advised to consult their doctors or qualified health professionals regarding specific health questions. Neither Root Science nor the publisher of this content takes responsibility for possible health consequences of any person or persons reading or following the information in this educational content. All viewers of this content, especially those taking prescription or over-the-counter medications, should consult their physicians before beginning any skincare, nutrition, supplement or lifestyle program. The views and products expressed are not intended to treat, cure or prevent any disease.