We know how frustrating the search for a face oil for sensitive skin can be. And if you're not willing to settle for just any formula and want the very best, we're here to help you end your search once and for all.
With more than a decade of experience in formulating face oils and a passion for sourcing the highest quality botanical oils in the world, we're sharing our expert insight on the best face oils for sensitive skin.
So keep on reading to find out which of these high-performance oils will be exactly what your sensitive skin needs – and get your complexion glowing stat.
Best Face Oils For Sensitive Skin
1. Jojoba Oil
Jojoba oil is a versatile ingredient with numerous uses and skin benefits. It's very gentle in nature and mimics skin's natural sebum, aka oil, making it mother nature's perfect moisturizer.
Jojoba oil contains anti-inflammatory properties and nutrients that can be very beneficial to eczema, rosacea and extremely dry skin. It also contains natural forms of the antioxidant vitamin E, which aids in skin regeneration and rejuvenation – helping to minimize the look of wrinkles as well as scars.
Jojoba oil is a great option for sensitive skin that is also prone to breakouts or clogged pores due to the fact that it's non-comedogenic, meaning it's unlikely to clog pores. It can also help to balance oil production for oily skin types and eliminates the need for creams and lotions, which can sometimes contribute to clogged pores and breakouts.
2. Tamanu Oil
Tamanu oil has been used as a skin remedy for centuries. This emerald green oil is rich, deeply moisturizing oil with numerous therapeutic properties, making it a potent and highly effective option for sensitive skin.
This is an oil you can use sparingly as a little goes a long way. Tamanu oil contains calophyllic acid, which research suggests is responsible for its skin regenerating effects, helping to reduce the appearance of scars, redness and irritation.
Tamanu oil is great for sensitive skin that's also in need of intensive moisture and rejuvenation.
3. Sea Buckthorn Oil
Sea buckthorn oil acts as a topical multi-vitamin for your skin, so to speak. With over 190 bioactive compounds, sea buckthorn is an excellent face oil choice for sensitive skin that's also looking to tackle signs of aging.
This nutrient powerhouse contains a rare omega fatty acid profile, including omega-3, 6, 7 and 9. These fatty acids play an important role in supporting healthy skin function and help to improve the overall appearance of skin.
It's also a rich source of carotenoids and lycopene, which are potent antioxidants that help defend sensitive skin from environmental stressors and oxidative damage – all of which contribute to signs of aging.
4. Black Cumin Oil
Black cumin seed oil is renowned for its unique therapeutic constituents. Not only does modern science back up its effectiveness, the pharaohs of ancient Egypt used it for its numerous health benefits.
Black cumin seed oil contains bioactive compounds, including thymoquinone, which studies show has a variety of skin benefits, such as decreasing the appearance of irritation, dark spots, and signs of aging.
Furthermore, black cumin seed oil contains properties that help to keep breakouts at bay – making it a great option for sensitive skin prone to blemishes.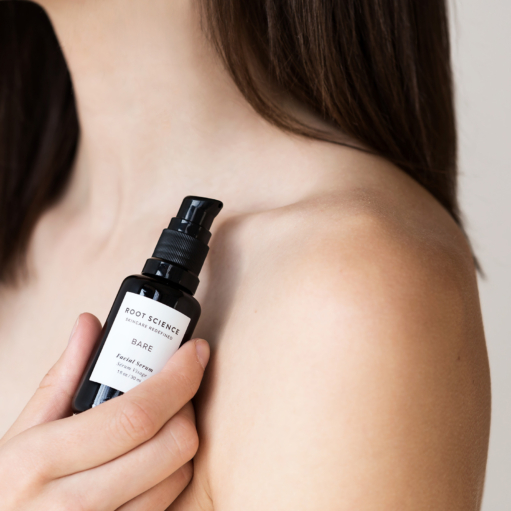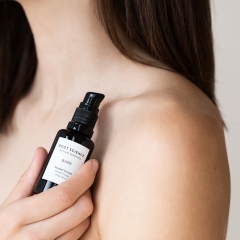 Organic. Phytoactive. Skin Nourishment.
Looking To Clear, Calm And Revitalize Sensitive Skin?
5. Milk Thistle Oil
Milk thistle has a history of usage that dates back thousands of years. This ancient remedy is a rare find in cosmetic formulas, but worth the extra search effort.
Milk thistle contains silymarin, a bioactive constituent which acts as a soothing and reparative antioxidant when applied topically to skin, helping to protect sensitive skin from environmental damage and promote the look of healthy skin.
Furthermore, milk thistle contains deeply moisturizing fatty acids and phytosterols that keep dry, flaky skin at bay and assist in reducing the look of redness and irritation – making it a valuable oil for sensitive skin that is also prone to dryness and irritation.
6. Pomegranate Oil
Pomegranates are not only valued for their benefits to health, the oil from the seeds is highly nourishing to sensitive skin. Its skin benefits can be attributed to its high levels of phenolic compounds, specifically punicic acid (omega-5 fatty acid) and punicalagins. These compounds provide potent anti-inflammatory and antioxidant benefits to the skin.
Pomegranate oil contains the rare omega-5 fatty acid, which is touted as one of the most powerful antioxidants known to modern science. Antioxidants play an important role in protecting skin from environmental damage that leads to visible signs of aging, and assist in rejuvenating the look of skin.
7. Oat Oil
Oat oil has yet to have its 15 minutes of fame, but we won't be surprised when it does. This luxurious oil is as nourishing as it is soothing, provides all day moisture, and leaves skin feeling undeniably soft.
Oats contain an array of skin beneficial constituents, such as vitamin e, ceramides and squalene. Oats also contain avenanthramides, which are polyphenols only found in oats. They help to soothe dry, itchy skin and promote healthy barrier function. All of these benefits make oat oil a great option for sensitive skin that is prone to redness and irritation.
Shopping For A Sensitive Skin Face Oil? Here's What To Look For:
Proper Packaging
Always choose glass packaging that protects the oil from light and air. Avoid clear, plastic packaging and droppers at all costs. Light and oxygen degrade oil and droppers introduce bacteria with each use – all of which result in a face oil that quickly goes rancid.
Quality Oils
Opt for organic, cold-pressed, or even better, CO2 extracted oils. These extraction forms increase nutrient and antioxidant content, which results in more skin benefits.
Avoid Certain Oils
Avoid fragrance, essential oils and highly refined carrier oils such as sunflower, safflower or vegetable oil.

Face Oils For Sensitive Skin Frequently Asked Questions
Can Those With Sensitive Skin Use A Face Oil?
Sensitive skin can greatly benefit from using a face oil. The reason for that is due to the fact that botanical-based face oils are gentle, biocompatible, and minimize the amount of preservatives and synthetic chemicals your skin is exposed to. We consider face oils to be nature's perfect moisturizer.
Are Essential Oils Safe For Sensitive Skin?
Essential oils are not a great option for sensitive skin due to their high potential for skin irritation, which can lead to issues such as contact dermatitis. Although essential oils are often recommended for their numerous skin benefits, we suggest staying away from them if you consider your skin sensitive or reactive. As always, it's best to patch test new products before applying them to your entire face.
Which Oils Are Safe For Sensitive Skin?
If you have sensitive skin, it's best to look for oils that are biocompatible, gentle and rich in nutrients, such as Jojoba, Tamanu and Sea Buckthorn. To determine which oil is safe for your sensitive skin, we recommend patch testing, as everyone is unique in the way they respond to cosmetic ingredients.
What Oils Should I Avoid For Sensitive Skin?
We recommend sensitive skin avoid essential oils, as they have a high potential for irritation. In addition, heavy carrier oils such as castor and mineral oils are not suitable for daily application and can lead to clogged pores.
Which Face Oil Is Best For Rosacea?
Jojoba oil is our top choice for skin prone to rosacea due to its extra gentle nature and stability. However, we recommend patch testing and experimenting with a few of the oils mentioned above to find what works best for you.
Shop Featured Products
Want To Know The Top 5 Mistakes to Avoid When Buying Natural Skincare?
Please note that by entering your email address you are subscribing to the Root Science newsletter. No pressure, you can unsubscribe at any time.
Disclaimer: This content is for informational and educational purposes only. It is not intended to provide medical advice or to take the place of such advice or treatment from a personal physician. All readers/viewers of this content are advised to consult their doctors or qualified health professionals regarding specific health questions. Neither Root Science nor the publisher of this content takes responsibility for possible health consequences of any person or persons reading or following the information in this educational content. All viewers of this content, especially those taking prescription or over-the-counter medications, should consult their physicians before beginning any skincare, nutrition, supplement or lifestyle program. The views and products expressed are not intended to treat, cure or prevent any disease.
Image Sources: Abstract Oils via Pawel Czerwinski