When it comes to caring for your skin with the very best ingredients, look no further than mother nature. After all, she does have a pretty long track record. What's even better is that modern science supports some of the ancient wisdom passed down by our ancestors. Turmeric has been used for over 4000 years for its numerous internal and external benefits, including beautifying the skin.
In this blog we'll cover 5 reasons to use turmeric for skin, the history of turmeric, how to use turmeric in your skin care routine, what skin types it's good for, and your top frequently asked questions.
Top 5 Reasons To Use Turmeric For Your Skin
There's nothing more rewarding on a cold day than a warm golden turmeric latte, but when paired with a turmeric face mask, now that is the ultimate at-home spa day.
1. Turmeric Soothes Delicate Skin
Turmeric's gentle yet effective nature makes it suitable for even the most delicate of complexions. The nourishing properties in turmeric provide skin with the extra TLC it needs to look and feel its best.
2. Turmeric Minimizes The Look Of Blemishes
With consistent and long-term use, turmeric helps to reduce the appearance of blemishes and visibly minimize the look of redness that usually accompanies them. As with most skincare products and ingredients, consistency and a little bit of patience is the key to unlocking and visibly experiencing their full potential.
3. Turmeric Provides Antioxidant Protection Against Environmental Stressors
If you're a sun worshiper, nature lover or live in an urban environment, your skin can become fatigued from various environmental stressors. The worst offenders are free-radicals, which can accelerate visibly signs of aging. Turmeric is a rich source of protective antioxidants, specifically curcumin, beta-carotene and vitamin C.
4. Turmeric Supports Your Best Looking Skin
If you're looking for healthy ingredient from nature that's rich in skin beautifying nutrients, turmeric is not to be missed in your skincare routine. The protective antioxidants help to keep your skin looking its best through all stages of life.
5. Turmeric Leaves Your Skin Looking Bright and Glowing
Consistent use of turmeric on the skin gives it a distinct glow. The impressive antioxidant activity in turmeric is a skin barrier's dream. Research shows that antioxidants play a role in promoting a healthy skin appearance.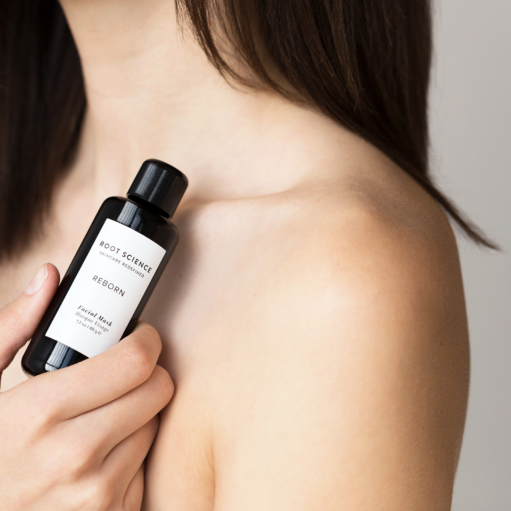 Organic. Phytoactive. Skin Nourishment.
Looking For A Turmeric Powered Face Mask?
What is Turmeric?
Turmeric also known as curcuma longa, is one of the most popular, extensively researched, and widely used spices in the world. This ancient spice is used as a food, garment dye and as an Ayurvedic remedy In India for the past 4000+ years. Turmeric is related to the ginger plant and the roots can be used fresh and dried. For cosmetic and skincare purposes, dried turmeric is the preferred form. You can find ground turmeric powder or standardize extracts which guarantee a certain percentage of curcuminoids, which is what gives turmeric its wide-range of benefits. Good quality turmeric powder has a rich orange hue and a fresh, herbaceous, slightly spicy, carrot-like scent.
Skin Beneficial Properties In Turmeric
Turmeric's history dates back to 2500 BCE, notably in in Ayurveda, a natural system of medicine that originated in India, and traditional Chinese medicine. Today, modern science confirms that turmeric contains a wealth of bioactive compounds and has more than 300 naturally occurring components. These include beta-carotene, vitamin C, calcium, flavonoids, iron, niacin, potassium, zinc and more.
However, the most notable and researched active compounds in turmeric are curcuminoids, specifically curcumin, a potent antioxidant that has the ability to neutralize free-radicals. Because most of turmeric's superpower comes from curcumin, it's important to opt for a high-quality source that tests for curcumin count as well as microbial, heavy metals, and pesticide residue. Research shows that curcumin has properties that may help to minimize the appearance of numerous skin concerns, such as wrinkles, blemishes and redness.
What Types of Skin Should Use Turmeric?
One of the advantages of using turmeric for skin is that it can be enjoyed by all skin types, ages and used for various skin concerns. Dry skin benefits from the rejuvenating effects provided by its antioxidant powers. Sensitive, combination and blemish-prone benefit from the soothing and clarifying properties. One reason so many people have turned to turmeric as a skincare treatment is that it doesn't come with the worry or side-effects of using harsh treatments.
How To Use Turmeric For Skin
The best way to use turmeric for skin is to use a face mask that includes this powerful spice. We do not recommend using turmeric by itself as it will stain your skin (and anything it comes in contact with) and it can take some time for skin to return to normal. Turmeric should be properly formulated as part of a face mask formula and used 1-2x per week. We also recommend opting for a dry, powder mask formula to ensure that the turmeric is fresh and active. Water-based formulas require strong preservatives and unfortunately there is an accelerated degradation of fragile antioxidant and vitamins when these natural ingredients are exposed to liquid. This is why powder formulas are so effective. They allow you to active your mask when you are ready to use it, so your ingredients and their inherent nutrients remain fresh and active longer.
Frequently Asked Turmeric Skin Care Questions
Is Turmeric Safe For Skin?
There are no known negative side-effects of using turmeric on skin besides the potential for staining, which happens when turmeric powder is used neat on the face. We highly recommend using a properly formulated product that includes turmeric as one of the ingredients, deliver all of the skin-loving goodness without leaving a stain.
Can I Use Turmeric On My Face?
Yes, you can use turmeric on your face and anywhere your skin needs a little extra skin-loving goodness. However, as mentioned above, we do not recommend using it neat as it can leave a stain that takes some time to dissipate.
Shop Featured Products
Want To Know The Top 5 Mistakes to Avoid When Buying Natural Skincare?
Please note that by entering your email address you are subscribing to the Root Science newsletter. No pressure, you can unsubscribe at any time.
Disclaimer: This content is for informational and educational purposes only. It is not intended to provide medical advice or to take the place of such advice or treatment from a personal physician. All readers/viewers of this content are advised to consult their doctors or qualified health professionals regarding specific health questions. Neither Root Science nor the publisher of this content takes responsibility for possible health consequences of any person or persons reading or following the information in this educational content. All viewers of this content, especially those taking prescription or over-the-counter medications, should consult their physicians before beginning any skincare, nutrition, supplement or lifestyle program. The views and products expressed are not intended to treat, cure or prevent any disease.
Image Sources: Turmeric Powder via Eva Elijas