Benefits of Vitamin C
The beloved vitamin we use to help boost our immune system during the cold and flu season can also do wonders for our complexion. Vitamin C is one of the most promising, researched-backed ingredients in skincare.
Vitamin C is vital nutrient. It's also an antioxidant that helps to neutralize free radicals – the same free radicals that can accelerate the aging process (stop right there free radicals!).  Vitamin C is also critical in the formation of collagen, a building block of skin elasticity.  When collagen breaks down, skin becomes thin, fragile and wrinkles become visible.
Topical Vitamin C Skin Benefits: The Ultimate Glow-Getter
Vitamin C in skincare is prized for its glow-inducing effect. When applied topically, vitamin C has three main skin benefits:
1. Vitamin C protects skin from environmental stressors. Vitamin C is an antioxidant. It neutralizes free radicals, in turn, helping to protect against skin changes associated with environmental aggressors.
2. Vitamin C reduces the appearance of wrinkles and fine lines. Research shows that vitamin C helps to reduce the look of fine lines, wrinkles and visibly increases the look of firmness.
3. Vitamin C reduces the appearance of dark spots. Vitamin C helps to visibly brighten skin tone, reducing the look of dark spots, promoting a more even-looking skin tone.

L-Ascorbic Acid: The Common Vitamin C For Your Skin
The most common form of vitamin C used in skincare is L-ascorbic acid. This form is typically manufactured from genetically engineered corn sugars that are hydrogenated and processed with acetone. L-ascorbic acid can be found in natural and organic skin care products. It should be noted that it is the most researched and well-documented form of vitamin C for skincare. L-ascorbic is also the most cost-effective form of vitamin C to formulate with, but extremely difficult to get right. L-ascorbic acid is sensitive to light, air and water. It also requires a low pH formula for optimal stability, which can be irritating to skin. Because L-ascorbic acid and other water-soluble forms of vitamin C are highly susceptible to oxidation, they can become inactive and potentially harmful over time.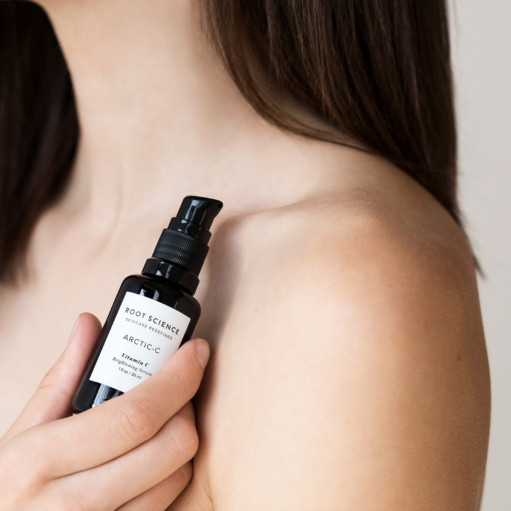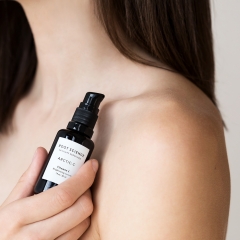 Organic. Phytoactive. Skin Nourishment.
Looking For A Vitamin C Serum With THD Ascorbate?
Tetrahexyldecyl Ascorbate: The Best Vitamin C For Your Skin
A highly prized form of vitamin C is tetrahexyldecyl ascorbate. This is a high-quality, oil-soluble form of vitamin C. Tetrahexyldecyl ascorbate is not only sought after for its superior stability, but also greater ability to penetrate the skin. Peer-reviewed studies show that it is able to penetrate the uppermost layer of skin (epidermis) and deepest layer of skin (dermis). Tetrahexyldecyl ascorbate is also a gentle vitamin C form, generally tolerated by sensitive skin, unlike many other forms. As a matter of fact, this is the form of vitamin c we use in our Arctic-C Vitamin C Brightening Serum.
The Truly Organic Vitamin C For Your Skin
Some of the natural sources of vitamin C we use here at Root Science come in the form rosehip, hibiscus and orange peel. We source these 100% certified organic and unrefined, which means they not only contain vitamin C but also bioflavanoids, phytonutrients, enzymes and antioxidants.
How To Choose The Best Vitamin C Serum For Your Skin
When searching for the best vitamin C serum, consider what your skin needs, first and foremost. Pretty packaging and pleasing scents are fun, however, do nothing for your complexion. As a matter of fact, they can do more harm than good.
The Best Vitamin C Serums Contain:
1. Stable Vitamin C Form: Tetrahexyldecyl Ascorbate or Sodium Ascorbyl Palmitate
2. Concentration: 10-20% Vitamin C
3. Complimentary Ingredients: Vitamin E, Ferulic Acid, Astaxanthin
4. Protective Packaging: Light Blocking Glass + Pump
What You Don't Want In Your Vitamin C Serum
With too many options to sift through, finding the best Vitamin C serum can feel like looking for a needle in a haystack. However, having basic knowledge on what to look for and avoid, will help you navigate the vast sea of products. Finding a formula that excludes ingredients that may interact or negate the benefits of a vitamin C serum is vital. You also need to check that the formula has been packaged properly, as that will play a major role in keeping your vitamin C serum active. Good vitamin C serum packaging should protect the formula from light and air – as they degrade antioxidants. Avoid plastic, clear bottles and droppers. Instead, opt for pumps and dark glass bottles.
When deciding to include active ingredients in your skin routine, such as Vitamin C, avoid formulas that contain:
— Parabens
— Fragrance/Parfume or Essential Oils
— Synthetic Colorants
— Petrochemical Ingredients like Mineral Oil and Butylparaben
— Ingredients with PEG in the name
Skincare Ingredients Not Compatible With Vitamin C
Certain active ingredients in skincare do not play well together. Layering too many products on your skin or buying a formula with these ingredients combined in a formula (companies do make formulation mistakes now and then) can render them inactive or even worse, cause you major skin irritation. Here is a list of skincare ingredients you should not mix with vitamin C:
— Niacinamide
— Retinol
— Chemical Exfoliants AHA's, BHA's, Lactic Acid,
— Benzoyl Peroxide
— Hydroquinone
When To Use A Vitamin C Serum In A Skin Care Routine
The general rule of thumb is to apply your products in order of lightest to heaviest. Apply leave on products to freshly cleansed skin. When using a vitamin C serum, apply after cleansing and toning, before your final moisturizer (preferably a facial oil/serum).
How To Use A Vitamin C Serum
Vitamin C serums can typically be used daily. However this will vary depending on the strength. If you're using other active ingredients in your skin care routine, such as retinol or an alternative like Bakuchiol, we recommend giving each active its own day. Using too many actives on the same day or at the same time can overstimulate your barrier and cause irritation.
How Long Does It Take For A Vitamin C Serum To Work?
On average, it takes skin 4-8 weeks to begin demonstrating visible results from a Vitamin C serum. This will vary depending on the strength of the Vitamin C serum. In addition to that, factors such as age, the health of your skin, degree of skin damage/hyperpigmentation, as well as the root cause for certain skin issues, affect how long it takes to see results. Some forms of hyperpigmentation are caused by internal factors and unless those are addressed, topical treatments will have an uphill battle. As with all skincare treatments, visible results get better with time. A healthy dose of patience is is essential when starting a new skincare treatment. And remember, don't give up too quickly, use your treatment for a minimum of 3-6 months.
At Root Science, we pride ourselves on using only the highest quality ingredients in our products.
Start getting your weekly dose of topical vitamin C today by using our Arctic-C Vitamin C Brightening Serum, Reborn Mineral Mask and Polish Superfood Exfoliant!
Shop Featured Products
Want To Know The Top 5 Mistakes to Avoid When Buying Natural Skincare?
Please note that by entering your email address you are subscribing to the Root Science newsletter. No pressure, you can unsubscribe at any time.
Disclaimer: This content is for informational and educational purposes only. It is not intended to provide medical advice or to take the place of such advice or treatment from a personal physician. All readers/viewers of this content are advised to consult their doctors or qualified health professionals regarding specific health questions. Neither Root Science nor the publisher of this content takes responsibility for possible health consequences of any person or persons reading or following the information in this educational content. All viewers of this content, especially those taking prescription or over-the-counter medications, should consult their physicians before beginning any skincare, nutrition, supplement or lifestyle program. The views and products expressed are not intended to treat, cure or prevent any disease.
Image Sources: Orange Water on Cling Film via Annie Spratt / Three Women via Anna Shvets