Description
"
I am delighted to have found your products! This serum has made my late 30s skin look better in 1 week than it has looked in years…
Helene
Root Science User
Guava Seed Oil
Linoleic acid deeply penetrates to maintain optimal hydration and  balanced oil production.
Cranberry Oil
Sourced from Germany
Vitamin A reduces blemishes, hyper-pigmentation and promotes healthy cell renewal.
Marula Oil
Omega-9 fatty acid deeply penetrates and absorbs quickly, delivering skin protective antioxidants and long lasting moisture.
Brazil Nut Oil
Sourced from Brazil
Abundant source of antioxidant Vitamin E, accelerates healing, protects skin from UV damage and collagen breakdown.
Blue Chamomile Essential Oil
Sourced from Germany
High concentration of Azulene soothes irritable, unbalanced skin and accelerates healing.
Sea Buckthorn Oil
Sourced from Germany
A topical superfood with omega-7, critical for collagen production responsible for firm, supple skin.
The Process
Premium quality oils are sourced raw, organic, unrefined and non-deodorized for maximum nutrient density. Therapeutic grade essential oils are distilled from wild medicinal plants. 19 active + skin loving ingredients are hand blended in synergistic quantities proprietary to Root Science. Tried and tested by real people to ensure optimal skin benefits.
The Experience
Brimming in seductive notes of exotic pear and sweet blue chamomile, skin transcends into a blissful calm. Serum warms in the palm of your hand and nutrients are gently massaged into skin. Lavish botanicals drench complexion in glow activating vitamins as moisture rich oils quickly absorb, unveiling perfectly primed skin and a new state of health.
The Standard
Housed in stunning dark violet glass for the highest standard in freshness and potency. Concentrated, water-free formula eliminates fillers and preservatives. Pumps instead of droppers reduce oxygen induced rancidity. Violet glass instead of clear prevents light degradation. Purest form of organic + wild crafted ingredients are protected for skin safety and efficacy.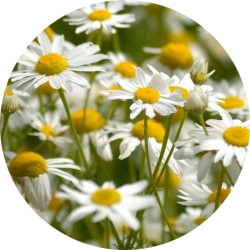 Featured Ingredient: Blue Chamomile
Essential Oil
One of the most coveted ancient herbal remedies, the use of chamomile dates back to ancient Egypt. The earliest known documentation is in the Ebers Medical Papyrus, one of the world's oldest medical documents. In medieval Europe, Chamomile was rendered a cure all for ailments. Blue chamomile contains a high level of Azule, a powerful anti-inflammatory and skin healing component. Chamomile also contains anti-allergenic, antibiotic and antibacterial properties. This powerful oil assists in the healing and prevention of acne, eczema, rosacea, dermatitis, broken capillaries and wounds. An added benefit of chamomile is its sweet and calming scent which alleviates stress and tension.
Made in Portland, Oregon · Natural · Organic · Cruelty Free · Vegan